Ashlie Nielsen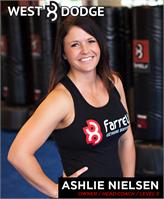 Head Coach/Owner
Level 3 Instructor
I began Farrell's in Summer of 2010. Before Farrell's I was a devoted runner. Farrell's is the first program I have been a part of that doesn't focus on the number on the scale, instead focuses on putting in the highest level of work, nutrition, and making positive lifestyle changes. It's truly a way of life.
It's our job as coaches, instructors, managers, to care about our members. We care about you and want to see you achieve those results you're looking for. We're not just a gym, we truly are family. That's what separates us from any other gym. We know you by name! I love being part of a program that has the ability to inspire and transform lives for the better.
Ashlie Nielsen instructs the following:
This is a cardio kickboxing class.